Children are fascinating!
3 objectives for national advocacy: 
Shine the spotlight on early childhood, the most promising period of life but also the most fragile
Promote and publicize the mission of early childhood professionals
Facilitate the dynamic of continuous improvement of practices and research in the service of education
In France, we note:
Basic research shows that it is in the first 5 years of life that the roots of a socially and economically fulfilling and participatory life are anchored.
85% of brain maturation occurs during these years,
with 700 to 1 000 new connexions per seconds
And yet:
1 to 2 children die every day as a result of abuse
1 in 5 children live below the poverty line
Inequalities of birth are aggravated by a plurality of crises/factors: economic, health, environmental and social.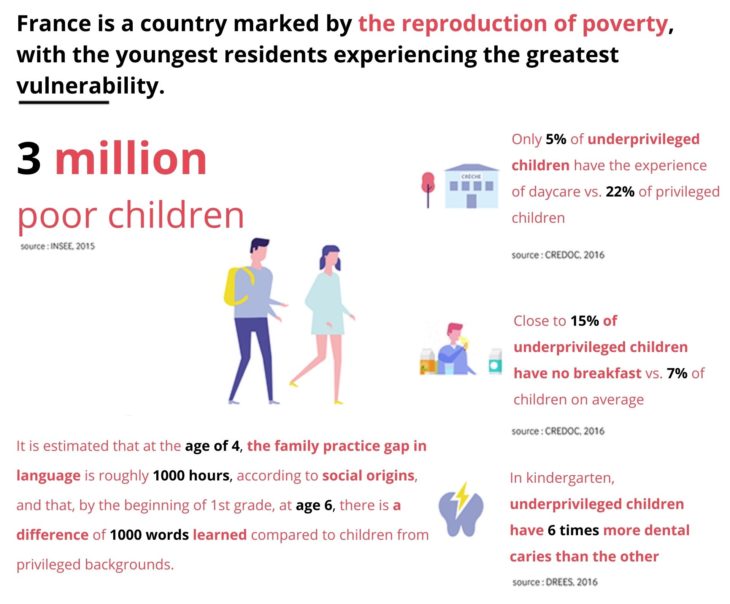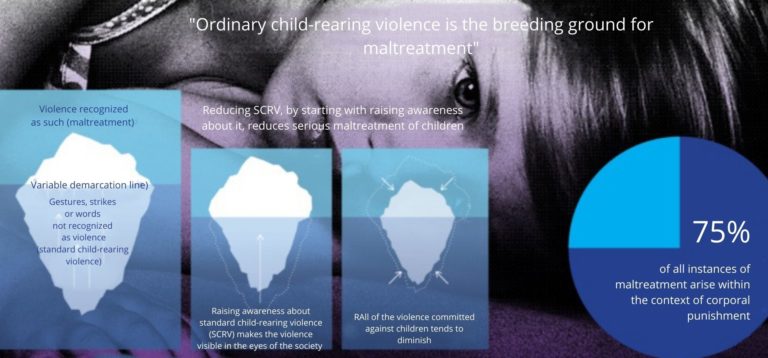 Why invest in early childhood?
Let's provide our children every chance to experience a harmonious development
The first years of life are fundamental for all children. They allow children to gradually develop an affective, social, emotional, cognitive, motor and cerebral maturity, thanks to the quality of the attachment, their relationship with loved ones, and the quality of everyday situations.
The first years of life are fundamental for all children. They allow children to gradually develop an affective, social, emotional, cognitive, motor and cerebral maturity, thanks to the quality of the attachment, their relationship with loved ones, and the quality of everyday situations.
Reference: Laura Van Harmelen, Dutch Researcher
A strong connection between poverty in all its forms and stress
Vulnerable children who live in situations of near constant stress have very high cortisol levels, which directly affects their cognitive and decision-making capacities. An inadequate regulation of the production of cortisol (stress hormone) affects areas of the brain such as the prefrontal cortex, which is the seat of learning and memory.
Reference: Esther Duflo, French economist at MIT
The sooner the state invests, the more effective is the investment in terms of its impact on a children's development.
The impact of the investment is a powerful vector of equality of opportunity.
INVESTING IN EARLY CHILDHOOD IS THE BEST GUARANTEE FOR THE FUTURE
James Heckman, Nobel laureate in Economics, 2000
85% of cerebral maturation occurs during the first 5 years of life
13% is the average annual return on an investment in early childhood
2% is the share of the education budget that world governments devote on average to early childhood
James Heckman, Nobel Prize in Economics, 2000
Extract from the panel "invest in early childhood" from the travelling exhibition Discover me…!
Investing in early childhood is the key to equality of opportunity.
We mustn't wait for children to be school-aged to act!
How can we best respond to the new educational challenges of our society and make early childhood a priority in order to reduce inequalities?
Act early by means of a third educational way promoting responsible, nurturing and structuring education.
Responsible: make each educator or parent aware of his or her essential role in the development of the child and help each child to take his place in society with respect both for others and for himself
Nuturing: support the child's natural empathy and desire to cooperate positively and effectively with his peers and encourage parents and professionals to treat children with care and connection
Structuring: help the child to confidently construct an identity, in a secure environment, accompanied by his family, by the professionals around him, and by the community.
Traditional education, based on punishment sometimes imposed without explanation, can lead to a lack of autonomy and self-confidence. On the other hand, an education that offers too much freedom for the child can lead to an inability to manage frustration and provoke feelings of insecurity.
Inequalities – Risk factors and factors of protection
These inequalities affect many future parents, families and children; they represent major risks that impact life trajectories and weaken individuals' life paths. They also complicate and diminish the work quality of early childhood professionals.
In the face of such economic, environmental, social and health risk factors, the Association seeks to provide protective factors throughout children's early lives; by sharing knowledge and offering training on new educational practices.
Acting early
These inequalities from birth must be tackled as early as possible on the child's journey, to promote integration and fight against exclusion and all forms of dropping out.
10 Territories
are the subject of priority attention; while our actions emerge from a desire for universal and appropriate intervention and prevention, they are nonetheless developed where the need arises.
Elected officials responsible for early childhood, parenthood, the family and education are witnesses to the needs of their populations and alert the Association, which provides appropriate responses in conjunction with local stakeholders.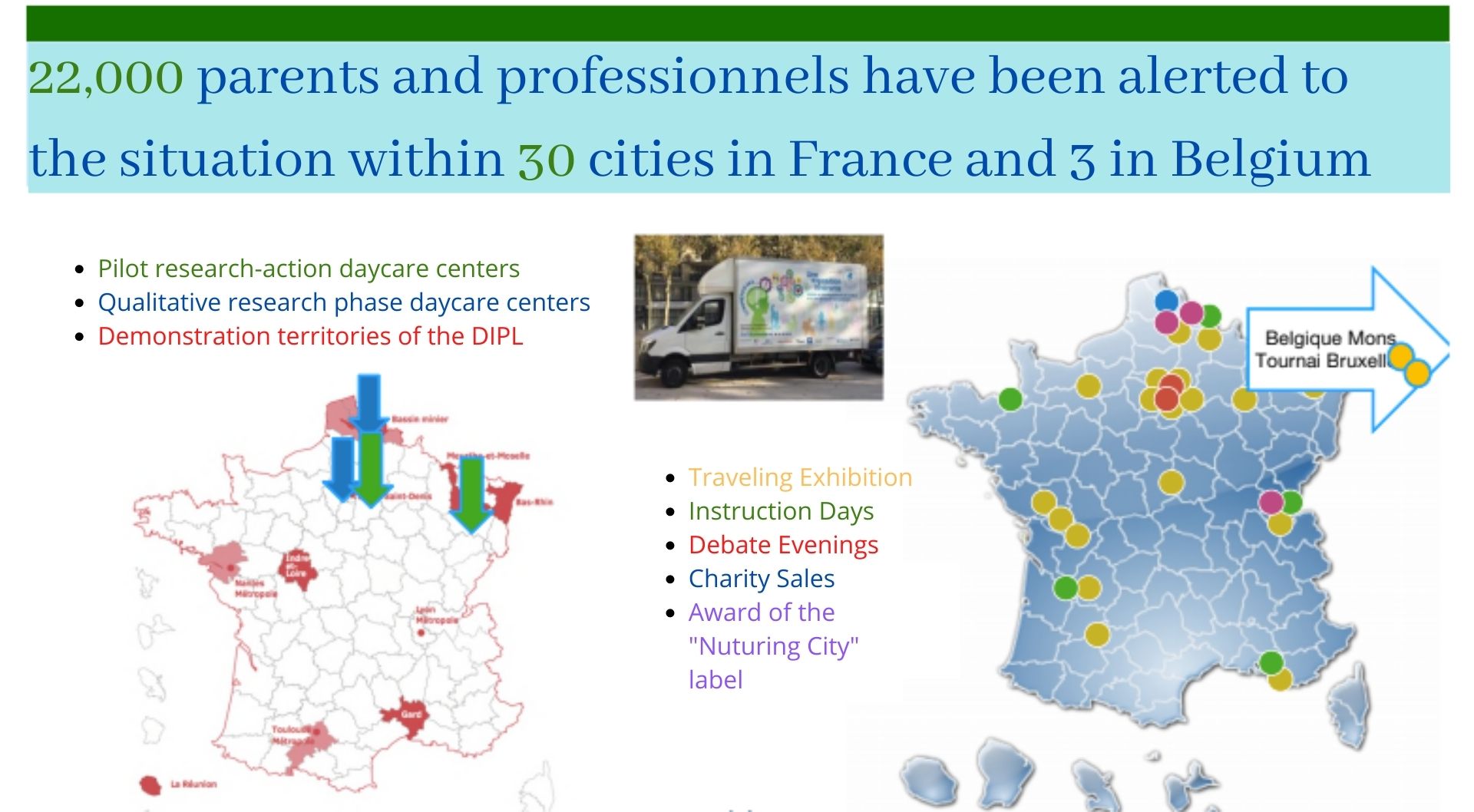 To accompany those who are most vulnerable but also early childhood professionals in the field, it is essential to mobilize and:
ensure that childhood is recognized as the most promising issue facing our society
meet with one another
dialogue together
share fundamental knowledge, and
adapt our practices.
We have therefore decided to APPROACH the entire educational community on the occasion of our gatherings. Speaking a common language together when we talk about children's development is a top priority and facilitates specific conversations (with pediatricians, psychologists, childcare professionals, other medical and paramedical professionals, as well as parents and other caregivers).
THE 1ST TOUR OF FRANCE FOR EARLY CHILDHOOD, ON A TRAIN!
This great solidarity-building, interactive, fun, itinerant and free mobilization took place from November 2 to 20, 2017
On board a train the length of 2 TGVs!
Sharing the latest international and up-to-date scientific and educational resources on child development: in 14 regions and 22 cities.
167 conferences and 100 experts mobilized in this adventure, welcoming 20,000 participants.
Neuroscientists, educators, anthropologists, psychologists, early childhood and childhood professionals, philosophers, child development specialists, pediatricians, family court judges, representatives of the OECD, UNESCO, major players in family policy, etc.
6 themes to build a better understanding of child development:
Birth and Forging Connections

Playing and Communicating

Everyday Well-Being

Acting Early

Protecting Children and their Rights

It Takes a Village to Raise a Child
32,000 parents and professionals shared this knowledge, were moved, discovered the hidden talents of their children but also weaknesses to support.
Go back to your memories !
The train continues its journey in the form of an itinerant educational exhibition
This is the first educational exhibition on child development.
It allows you to live certain unexpected experiences:
Hear like a fetus does in utero, dive into a baby's brain, decipher the different types of cries, discover your baby's skills, understand the emotions she feels, his favorite games and areas of interest, support your baby's learning, etc.
The exhibition has been prepared in 3 versions at the national level to share it in all contexts (town halls, CAF, PMI, nurseries, RAM, social centers, places of support for parenthood, universities, schools, hospitals, cinemas, theaters, museums , exhibition centers, etc.)
Advocacy Actions
They advocate:
daily in the field, by sharing traveling educational exhibitions such as Discover me…!
by participating, through the voice of our Managing Director in work groups within the Government.
2018-2019
Nathalie becomes Co-president of the Commission to Eradicate child poverty at the Interministerial Delegation for the Prevention of and War against Poverty.
Our mission is to prepare the major actions of the poverty plan aimed at the youngest and most vulnerable in France (for example, providing access to third-party payment for daycare for parents below the poverty line, or support for professionals in the 10 demonstration territories, etc.)
On October 17, 2017, the President of the Republic announced the launch of a major consultation around the development of a strategy for the prevention of and war against poverty, specifically to the benefit of children and young people. Because any war against poverty must be informed by a logic of social investment and equality of opportunity, but also because poverty particularly affects these populations, this approach takes as its starting point the current situation of children and young people in France.
Given the breadth of our commitments, we agreed to chair Work Group N° 1: "Eradicating child poverty".
The mission letter revolves around the following three major issues:
Professional care and early socialization of early childhood
Academic success as an instrument for correcting social inequalities
Parenthood support actions, to act upstream of vulnerable situations.
2019-2020 :
Nathalie serves as co-chair with Catherine Scordia of the Group IDF Ambition 600,000 in conjunction with the Interministerial Delegation for the Prevention of and War against Poverty
The objective of our mission: develop an inventory of priorities, needs and available training options for childhood professionals.
For more information. (in French)
Together, let's mobilize collective intelligence, overcoming traditional divisions because education is our common issue.
Respect for the rights of the child and the prevention of violence against children is the basis of all education, fundamentals on which we can build trust and nurture a constructive relationship with children.
Waging war against child poverty is a national priority, as much as is preventing difficulties along each child's path, regardless of social milieu and territory.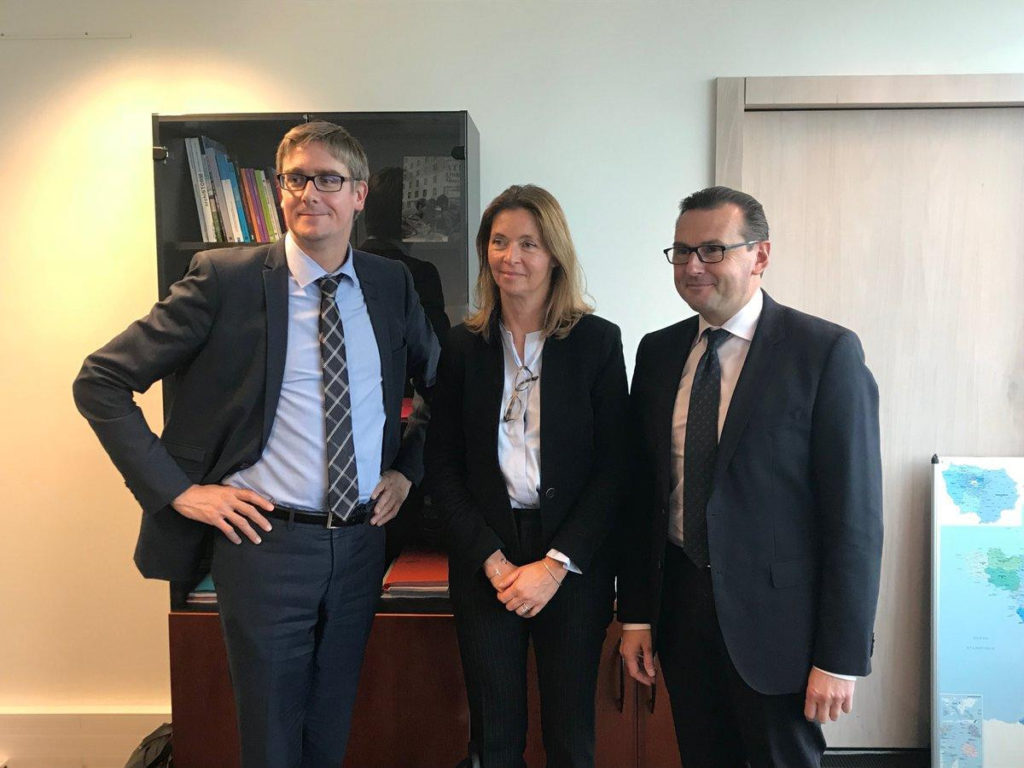 Mr. Olivier Noblecourt, ex- Interministeriel Representative, the co-presidents of the Early Childhood Commission, Nathalie Casso-Vicarini and Mr. Frédéric Leturque, Mayor of Arras.