We are pleased to invite you to our virtual launch event on "Social and Emotional Skills, Key Foundations for Global Child Development" on Tuesday, 24 May 2022, 1:30 PM – 3:30 PM (CET).
This year the congress addresses child participation and social and emotional skills from the early years.
Register now via the

link
Find the agenda via this link
Click here to know more about our speakers
To ensure better outcomes in health, safety, development, well-being, educational success, and equality of opportunity for the children, see you at our next live session on May 24, 2022.
Promoting social and emotional lifelong skills yields positive results for children and their whole environment, from the very early years: recognizing emotions; attitudes about self, social behaviors, risk reduction for problems conduct and emotional distress, enhancing quality educational transition and academic performance. In its recently launched OECD publication Starting Strong VI: "Supporting meaningful interactions in early childhood education and care", it is emphasized about children's learning, development and well-being being directly influenced by their daily interactions with other children, adults, their families and the environment. Well-being also encompasses child's rights as per defined by the adopted Convention on the Rights of the Child (CRC), with key prerequisites such as the child being recognized as a subject of rights and child's participation to be a living and well-implemented right.
High-quality interactions in early childhood settings require a whole process through which young generations and professionals acquire and apply the knowledge, skills and attitudes. Those will help develop self-esteem, manage emotions, feel and show empathy for others, establish and maintain trusting and collaborative relationships, and make responsible and caring decisions. This is all about building up a rigorous, concrete and meaningful curriculum, in which social and emotional learning becomes the whole key foundations of child global development. From the compelling case of the 1st research-action in social wellbeing "Accompany me…!" in France, infusing a change of paradigm is possible throughout professional attitudes and practices, which are seeds for the development of social and emotional skills from the very early age.
In the upcoming perspective of UNESCO World Conference on Early Childhood Care and Education that will be held in Tashkent next November, it is urgent and essential to reflect together from now. Quality education and well-being will be major themes that will be addressed. By crossing a wide range of expertise and experiences, speakers will share their analyses, some key practical research insights about how social and emotional skills as well as child's active participation can be concretely mainstreamed in our daily practices and more broadly within our societies.
Our International Advocacy
Major international organizations such as UNESCO and the OECD are guiding European institutions and countries toward quality early childhood education.
The association is involved by organizing a major congress at the OECD every 2 years bringing all the member countries together and some other countries related to UNESCO.
It has become a very popular and well-attended meeting for representatives and professionals from more than 40 countries to exchange viewpoints as well as share research, practices and promising results.
This congress has become a key event for those in the field to get informed, exchange views, share information and practices and return to their respective countries, regions and cities with concrete answers, plans and tools.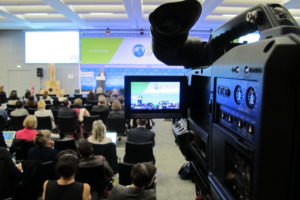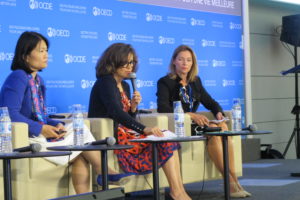 "Best-of" 2016 OECD Congress (french)
"Making-of" 2018 OECD Congress (french)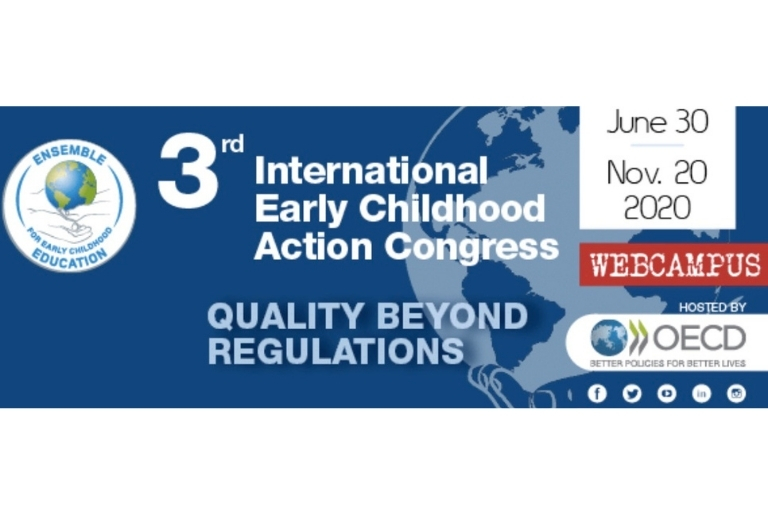 The OECD and our Association, a special connection
OECD publications allow field players and influencers to be recognized for their actions and to be part of an ecosystem driven by the desire of the 35 countries to integrate a dynamic of continuous quality improvement.
According to the OECD
"A consolidated body of research in recent years, in particular from neuroscience, shows that early childhood education and care (ECEC)provides a crucial foundation for future learning by fostering the development of cognitive and non-cognitive skills that are important for success later in life. Research also suggests that much of the benefit of ECEC for children's future learning and development depends on the quality of ECEC services. Therefore, governments are increasingly looking to international comparisons of ECEC's opportunities and outcomes as they develop policies to mobilize resources to meet rising demands."
UNESCO's latest publication supports and confirms our position with respect to focusing social investment on early childhood. "The evidence is in: we need to invest in early childhood education and care". View the entire document.
Over the past 15 years, much progress has been made towards achieving the goals of Education for All.
Sustainable Development Goals: 2015-2030
Spotlight on one sustainable development goal
4.2 Early Childhood Development Activities and Universal Pre-school Education
In September of 2015, at the United Nations Sustainable Development Summit, Member States formally adopted the 2030 Agenda for Sustainable Development in New York.
This agenda contains 17 goals, including a new global education goal (SDG 4). SDG 4 aims to ensure equal access to quality education for all and to promote lifelong learning opportunities; it comprises seven targets and three implementation modalities.
This objective is the result of an intense consultative process led by the Member States, with a nonetheless broad participation of civil society, teachers, trade unions, bilateral agencies, regional and international organizations, the private sector, educational institutes. research and foundations. Find out more.
World-class universities are investing in building and sharing state-of-the-art resources and tools to promote educational quality and support us: