How do we assess and measure our impact?
We initiated a policy of impact assessment toward the end of 2018.
It requires rigorous monitoring of actions to understand which factors (context, population, tools, repetition, intensity) lead to promising and lasting results.
We aim to understand in what context and in what territory an action can be reproduced under the best conditions of acceptability and reproducibility.
Our operating method has 7 phases: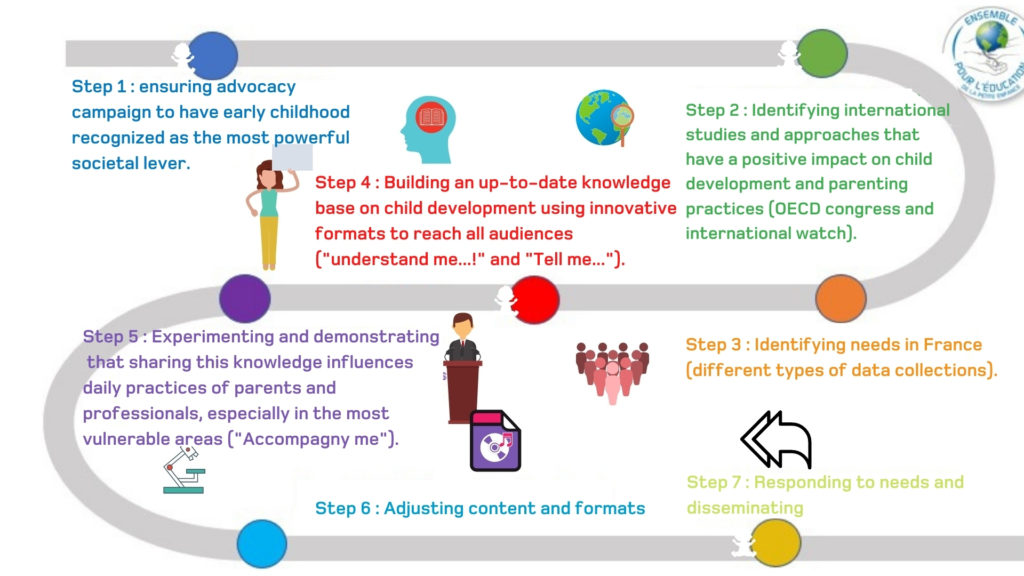 We intervene in response to expressed need and ensure that the funds invested and the approach used are useful to the beneficiaries over the long term.
We research impacts on:
The adjustment of professional practices
Parental awareness and involvement
Children's development
We believe that an assessment that is collective, sincere, non-stigmatizing, non-judgmental and centered on the meaning of the practices benefits all professionals.
We propose:
Self-assessments called "portraits of educational practices" in order to help us understand the needs
Assessments conducted in conjunction with the self-assessments
Post-intervention surveys
Post-intervention questionnaires
We enquire about the needs of early childhood professionals on a regular basis to ensure that we are responding as closely as possible to requests.
In order to stay in permanent contact with professionals, we are setting up regional branches run by our "ambassadors" in conjunction with the educational team at headquarters, under the direction of the development manager.
The goal is to broadly share the Accompany me … ! approach while ensuring quality on an ongoing basis:
2019: opening of the Nord branch in Arras
2020: eastern branch
2021: western branch
2022: southern branch
Our global approach is accompanied by:
RAND Europe
Saving Brains
Harvard Center for the Developing Child