Introduction
Rudolph HIDALGO, President, Ensemble pour l'Éducation de la Petite Enfance 
This congress, held every 2 years, has become a must-attend event during which experts, researchers, professionals in the field, and public policy influencers all meet together in order to: 
1-change the way we view children so as to build more inclusive and humane societies
2- ensure that early childhood earns a place on State agendas as an important and priority subject 
3-deal with the subject of childhood as a single, continuous period in order to support the journey of each child and his or her family, from the perinatal period right through to the start of school. 
The association Ensemble pour l'Éducation de la Petite Enfance (Together for Early Childhood Education), for which I have the honor to serve as president, supports public policies and childcare professionals in the field, recognizing and welcoming all the progress already made. Quality care and support for early childhood is the best investment for the future any nation can make.
The current health crisis has served to reveal strengths, weaknesses and challenges. It pushes us now more than ever to reinvent together a new united world. So, we will now face these challenges, together and in solidarity, thanks to the new and very innovative format of this Webcampus congress. This is our collective and enthusiastic response to a virus which, while it may have been able to deprive us of the pleasure of sitting together here in Paris, dear friends around the world, can never prevent us from mobilizing, thinking and building to advance our cause in favor of a caring, nurturing education that respects the fabulous potential of early childhood.
What does the Organization for Economic Cooperation and Development reveal?
Gabriela RAMOS, Chief of Staff of the Secretary-General of the OECD and Sherpa of the G20
" In many OECD countries, regulated ECEC (Early Childhood Education and Care) centers have been ordered to close, with few exceptions, in order to provide care for the children of essential workers. As a result, more than a third of children under 3 and almost 90% of children aged 3 to 5 were excluded from ECEC services. This situation puts parents in the position of first responders in terms of child care, cognitive, social and emotional development, and health.
It has never been easy for a parent to juggle child care and work. For the most disadvantaged, the situation is even more complicated because teleworking is less accessible, their work requiring a physical presence, while the affordable centers are closed. Therefore, their children are more vulnerable. The parents of these children, for example, are less likely to read them a story [30% less likely, according to our recent International Study of Early Learning and Child Well-being (IELS), conducted in England, the United States and Estonia], which the OECD stresses as essential for the development of their growing literacy skills and socio-emotional skills.
Even if children have access to digital tools, they could face another set of risks associated with "overexposure" to the Internet. The OECD Study on Early Learning and Child Well-Being shows that during the crisis, 83% of 5-year-olds in England, Estonia and the United States have used digital devices on a daily basis. This could encourage children to adopt an "always on" lifestyle. Of course, the digital environment offers important opportunities for children's learning and socialization, but we need to be aware of the risks, especially if digital technologies are used without proper parental supervision. Even the youngest children may encounter harmful or illegal content, be exposed to advertising, make purchases without realizing they are doing so, or inadvertently share personal data that may be used for commercial purposes. We therefore need to do more research on the impact of ICT on children development and on how to use it in early childhood education [which is one of our G20 proposals].
This crisis has only worsened the situation by increasing the stressors which make the abusers more violent: unstable housing [with the increase in the homeless population in OECD countries and overcrowded conditions, especially in Mexico, Latvia and Poland], financial insecurity [1 in 3 were financially insecure in OECD countries before the crisis] and job loss [81% of the global workforce affected ]. We have already observed an increase in the number of cases of domestic violence reported worldwide [30% in France, 40% in the UK, 50% in Brazil and 70% in Chile] and numerous calls to the hotlines for children who are victims of violence in the home. Some children are suffering from depression, even leading to suicide attempts, according to a report released by UNICEF last week.
This is exactly why the OECD launched the International Study on Early Learning and Child Well-Being (IELS) to shed light on how children behave at age 5 in terms of social, emotional, and cognitive development. Our first set of studies was conducted in England, Estonia, and the United States with 7,000 children, teachers, and parents.
In this time of increased pressure on public budgets, an OECD assessment like this one could highlight the importance of Early Childhood Education as an investment, not a cost. We want more countries to join this study in order to set an international benchmark for early childhood education. Although many governments have gone to great lengths to mitigate the impact on families, this support must continue beyond the crisis, as out-of-pocket childcare costs often take a large share of income, especially for low-paid parents and single mothers [especially in Ireland, Slovak Republic and the UK].
We therefore need to turn this crisis into an opportunity by making Early Childhood Education more affordable so that low-income households can begin to benefit from it in the post-COVID world [currently, one third are less likely to participate in Early Childhood Education].
Local and national authorities and civil society must work together in a coordinated fashion to meet this higher demand and identify children in need. "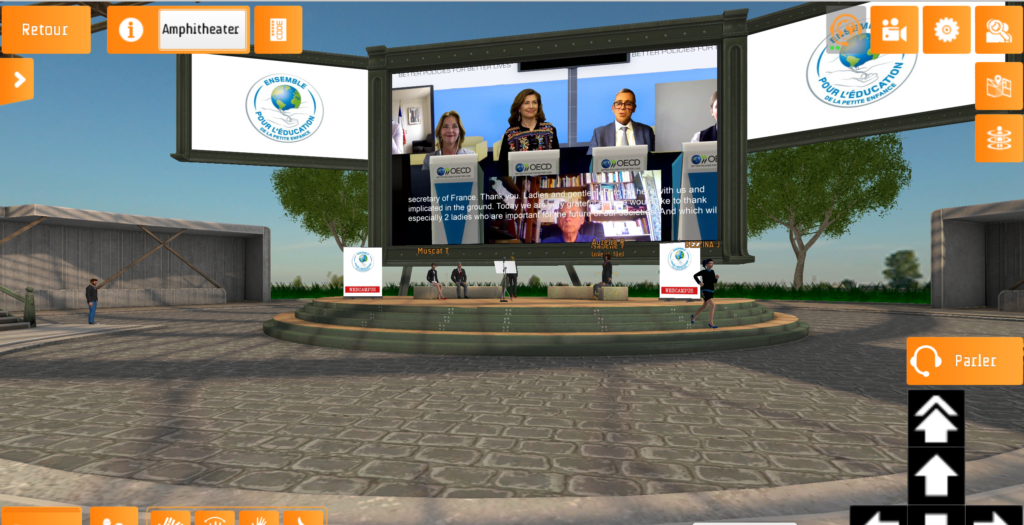 A perspective on the Rights of the Child:
Geneviève AVENARD, Children's Advocate, France
" Of the 3,000 or so complaints my office receives each year in this regard, which mainly come from parents (mothers, more precisely), a good quarter concern small children, up to 6 years of age; the ultimate aim of the contact being a concern for promoting the best development of the child as well as her development and well-being, in an adapted and progressive way as she grows.
This aim can be summed up in the phrase: "the best interests of the child," which links children's rights and their fundamental, material, physical, educational, safety and affection needs, and guarantees respect for them.
With particular attention to this extraordinary period for human beings that is early childhood, a period of extreme dependence on adults, yet nonetheless the fastest growing and transforming phase of human existence, in particular, the "1,000 day period" from conception, widely documented by neuroscience and epigenetic research. Speaking in general terms, we have thus far been able to demonstrate that the failure to respect children's rights during infancy is a causal factor of difficulties in the future.
We might hope that institutions, professionals, public spaces, places of socialization for children, society as a whole, could adapt to children and the youngest amongst them, and not the reverse as is too often the case: their specificities and individual characteristics, their particular needs, their rate of development, etc.
We might hope also that the capacities, needs, and frailties of our small children, their best interests, respect for their rights, might indeed constitute a primordial consideration in the making of decisions that directly affect them, and that these decisions might be less centered on adult logic.
Alas, I wish to express here the feeling that children have not been really taken into consideration, as subjects in their own right, while their lives have been deeply affected and upset by this context, and in particular the measures of confinement, followed by social distancing and health safety rules. First treated as "embodied clusters," they then had to deal with excessively restrictive provisions, without any measuring of the effects of these on children, on respect for their rights, and on their own development. " 
"Taking good care of young children and their parents means placing humanity on the horizon, and it is the best and perhaps the only real bulwark against barbarism." Catherine DOLTO
A Great observer on our side!
Dr. Boris CYRULNIK, Neuropsychiatrist and author
Click on the image to listen to Dr CYRULNIK's key messages
SESSION 1 : "HOW IS EARLY CHILDHOOD EDUCATION TODAY?"
"HOW IS EARLY CHILDHOOD EDUCATION TODAY?" FOCUS ON 3 COUNTRIES 
In France : 
Mr. Adrien Taquet Secretary of State for Child Protection of the Ministry for Solidarity and Health (France)
Confinement in France and in many countries has had a strong impact on children. Deprived of their school, deprived of extracurricular activities and the social links they provide: delayed learning and consequences for their psychological balance are to be feared.
The confinement had a major impact on children because they were confined to their families, and unfortunately for some of them, the family is sometimes a locus of verbal or physical violence, of mistreatment: in France the resurgence of calls to 119 (the emergency number for children in danger) (a 56% increase in calls in 2020 as compared to 2019 over the period March 18 – May 10). The crisis is still likely to impact children, especially the poorest, because it has caused such economic and social impoverishment of families. 
Physical and mental health, cognitive and emotional development, openness to others and to the world, and so many other factors are decisively influenced by the first days of life. The quality of the first contacts with parents, the importance of pregnancy and parenthood taking place under the best conditions, attendance at appropriate childcare facilities, all teach us that the public authorities must view the field of early childhood as much more significant than they have done thus far.
The virtues of a successful early childhood policy are not measured only at the individual level; they are revealed at the societal level, in the reduction of inequality of opportunity, because we know that it is there, from an early age, and that the gaps only widen, and sometimes in an irreparable way. This is what I would like to emphasize today, as the Covid-19 crisis further threatens the solidarity that our society must strive for.
The 2018 PISA (Programme for International Student Assessment) study, published in December of 2019 by the institution that does us the honor of welcoming us today, the OECD, tells us that my country, France, is a little above the average of OECD countries in reading, mathematics, and science.
But above all, it teaches us something else; in France, more than elsewhere, school performance is strongly correlated with social origin. The link between socio-economic status and performance on PISA tests is extremely strong in France (20 points higher than the average for OECD countries). The President of the Republic and the Government to which I belong are committed to the fight against this inequality of destiny: the young college student from a disadvantaged background must not, simply because of his social background, be less  successful at school than his friend from a wealthy background.
That is why, together with Jean-Michel Blanquer, Minister of National Education, we have doubled the primary classes in priority education zones: 300,000 students are affected, and these measures will bear fruit for the next generation.
The education of our little ones, we know, occurs largely at home. Play provokes an active and emotional engagement of the child, which we know is important for acquiring new knowledge. We must therefore better inform, better guide parents. Parents must be supported with strong public health messages, because educating children often also involves informing the parents. We must reach out to families, inform them more about the benefits of play, of awakening to nature, of the pernicious nature of exposure to screens before the age of 3, of the importance of strong attachment ties. This information will pass through dedicated communication campaigns, but also through the implementation of actual parenting training classes. We need to give more time back to parents and family. We know that a stronger presence of parents with their children during their first year of life promotes their cognitive development. We also need to invest even more in various types of childcare facilities. In this context, I would like to cite here the considerable financial support for the effort to supply 427,000 childcare places during the crisis, headed by Christelle DUBOS and the Caisses Nationales des Allocations Familiales (national family support organism). It is an unprecedented effort that has allowed us to maintain our offer despite the crisis. But we have to do more. It is also a question of setting up real educational projects in these places, of developing the training of early childhood professionals in the public and private sectors.
In short, what I want to do with the first 1000 days is to prove Bourdieu wrong;  indeed, we have to prove, Pythia, the Oracle of Delphi, wrong – she who told us that the family, the environment, the social origins determine everything. Investing in early childhood, in education and in early learning for the youngest amongst us, is the best way to deal with it. Accompanying those who have just been born, those for whom everything is yet to come, is, in the true sense of the term, to challenge destiny.
In Quebec : 
Introduction by Geneviève BELISLE, General Director of the Quebec Association of Early Childhood Centers (AQCPE)
It's by rubbing shoulders with people from all over the world, experts and enthusiasts like all of you who are attending this conference right now, that we become better. We believe that the unique expertise of the Quebec CPE / BC (Early Childhood Centers / Home-based Childcare Coordinators) network can benefit other children and families around the world, and that in the same way, the expertise and experiences of other countries in early childhood education can enrich us. We have everything to gain by drawing inspiration from the best internationally.
Our greatest wealth is found in the diversity of our practices, our individual and collective perspectives, our unique contexts, and our ability to adapt.
The pandemic has opened many discussions between countries to identify best practices and success stories, but also flaws in the systems in place. This will inevitably lead to more tight-knit partnerships than ever. I am thinking, for example, of the "Tell me…?" video series, the fruit of a solid partnership with the French association, Ensemble pour l'Education de la Petite Enfance.
Mr. Mathieu LACOMBE, Minister of Families in Quebec
It is with great pleasure that I speak to all of you today on behalf of the Government of Quebec, especially as I come to talk to you about "quality beyond norms," a theme that fits in particularly well with the Quebec approach to early childhood education.
I would like to warmly thank the organizers of the event, who were able to develop a very interesting programming schedule and who were able to adapt their practices to the special situation that we are experiencing at the moment. Thank you for this great initiative! In particular, my warmest greetings to Madame Casso-Vicarini, Executive Director of the association, Ensemble pour l'Education de la Petite Enfance, whom I had the pleasure of seeing during her visit to Quebec last year.
In the interest of fostering job creation, in particular, consensus emerged in Québec around certain key ideas. Thus, on January 23, 1997, Quebec's new family policy was unveiled. Entitled, "Children at the Heart of our Choices," it notably provided for the accelerated development of educational childcare services at reduced rates. The Ministry of Family and Children was then created. At that point, there had not been a ministry dedicated to the family in Quebec since the 1960s.
The network of early childhood centers, at the time, was intended to be a unique environment where parents and children could have access to a full range of front-line services. This measure demonstrated the government's desire to support the overall development of young children by offering them quality and affordable educational services ($5 per day, or a little over €3). Thus, in 1997, a program of reduced-contribution places was introduced, offering educational childcare services for children under 5 at minimal cost for parents – all of it overseen by the Government of Quebec.
Our aim was to allow parents who work, study or are involved in a social or professional reintegration process to rely on quality, accessible and stimulating childcare services, while continuing to play a leading role in the education of their children. 
These services were intended to allow our small children, 5 years old and under, to benefit from supervision that promotes their development, to gradually familiarize themselves with a stimulating learning environment and to acquire skills that will place them in a position for success at school. In all of these areas, rigorous quality standards are essential. Educators have a responsibility to ensure the health, safety, development, well-being, educational success, and equality of opportunity of the children who receive our services. 
To do that, they apply an educational program that promotes the overall development of the child, allowing him to develop all dimensions of his personhood, and gradually leads him to adapt to life in the community and to integrate harmoniously into it.
The Ministry has made available to all educational childcare services the "Caring for Young Children" program. This is a common guide intended for all those working in the field of early childhood, providing appropriate childcare guidelines. We were quite convinced that this network would allow small children to develop their full potential through daily contact with educators specialized in early childhood development. This has been amply demonstrated for a long time now.
Our network of educational childcare services has also enabled us to identify persistent learning difficulties in children. Ever better equipped, educators can recognize the warning signs even before children start school. And since the success of these children depends in part on the early detection of these learning difficulties, we can say that the network serves as a real door-opener for the health and well-being of a large number of children who have special needs.
These are some of the benefits of our network. We are all quite proud of it and it is very rewarding to work for the development of such a lever of human, social and economic development. By drawing inspiration from international best practices, we are constantly looking for innovative ways to improve the quality of our network.
In that respect, we attach great importance to the continuous training of the workforce.
Educators and leaders are trained and will continue to be, as long as they work with the program.
.  I am also thinking of the educator-to-child ratios, which vary according to the age of the children, and the ratio of qualified childcare staff present with the children every day. The latest measures are part of this desire for continuous improvement.
As recently as 2017, we adopted the Act to Improve Educational Quality and Promote the Harmonious Development of Educational Childcare Services. This law, the implementation of which kept us busy until last fall, notably introduces requirements concerning the educational program and the educational record of each child. The general objective is to improve the quality of all educational childcare services and to promote the success of the children who attend them.
And to ensure the coherence of actions so as to offer genuine equality of opportunity and foster the development of the full potential of all children, we are combining the efforts of the ministries of the Family, of Education, as well as of Health and Social Services under the joint action of the "Act Early" strategy, and in a concerted manner. This strategy, as its name suggests, aims to consolidate and coordinate the initiatives of these three ministries with respect to identifying any particular difficulties that certain children might encounter in order to provide a rapid and adequate response: quite simply, to act early and in a concerted manner for the well-being and harmonious development of our young children. The network of educational childcare facilities obviously plays a big role in this strategy, and we are quite proud of it.
At the same time, the Ministry of the Family has implemented an educational quality assessment measure to ensure that daycare services meet the needs of children in terms of their overall development. This measure is being implemented gradually over several years. Ultimately, all daycare services, in facilities and in family settings, will be evaluated: a world première! (Educational quality assessments are carried out in other countries, but not so systematically.)
The goal is obviously to improve our practices; meaning, the job is never done. For those who want to improve the daily lives of children and families, and by extension, society as a whole, there is always work to be done. Isn't that the meaning of the OECD slogan, "Better Policies, Better Lives"?
And what I particularly like, and what makes me proud, is that this is, in fact, an orientation of the Quebec state, without reference to political parties. It's as if the first 20 years of our network's life had given it all the legitimacy to continue in this direction. The parties in power may succeed one another, yet family policies remain and are reinforced.
The ground that remains for us to cover is this: accessibility. All governments should take the time to question themselves on this point. Who are the children who would gain the most from attending our childcare services? How can we reach them more effectively? Do all children whose parents so wish have access to our services? What can be done in government to maximize the number of children who can enjoy a quality environment?
In Norway:
Madame Guri MELBY, Minister of Education and Integration
Click on the image to listen to key messages from Minister Guri MELBY
DO YOU WANT TO FIND ALL OF THIS LIVE SESSION AND THE EXCHANGES IN REPLAY? 
YOU DON'T WANT TO MISS OUR NEXT LIVE SESSIONS AND PARTICIPATE IN OUR WEBCAMPUS ON CHILDHOOD?
See you at our next live session, July 16, 2020 from 2 p.m. to 4 p.m.
To know more:
About the Webcampus on Childhood, click here
On our Association "Ensemble for Early Childhood Education", click here